We shipped quite a few improvements to our new design and incorporated your feedback in order to make Sked work better for you.
However, we know switching to a new interface can be a bit confusing which is why we've prepared a few quick intro guides for the new platform. In this post, we are going to show you how to use the Calendar, Queue & Instagram Planner.
Calendar 
You can access Calendar from the Sked Social dashboard:
Once in Calendar, you can choose the accounts for which you want to see posts for or simply click Select all. The accounts will be color-coded in the Calendar. You can also filter your view by Month, Week or Day and view both your past and upcoming posts by selecting an option above the calendar:
In the Calendar, you can also drag and drop your posts to change the schedule or from the Drafts on the left-hand side, easy as that!
The Sked Calendar also has all major national holidays built in, click on Filter on the right-hand side, then click Event Filters and Add holidays and choose the country/countries whose holidays you want to add: 
Queue
Once accessing Queue from the Dashboard, this is the first screen you'll see: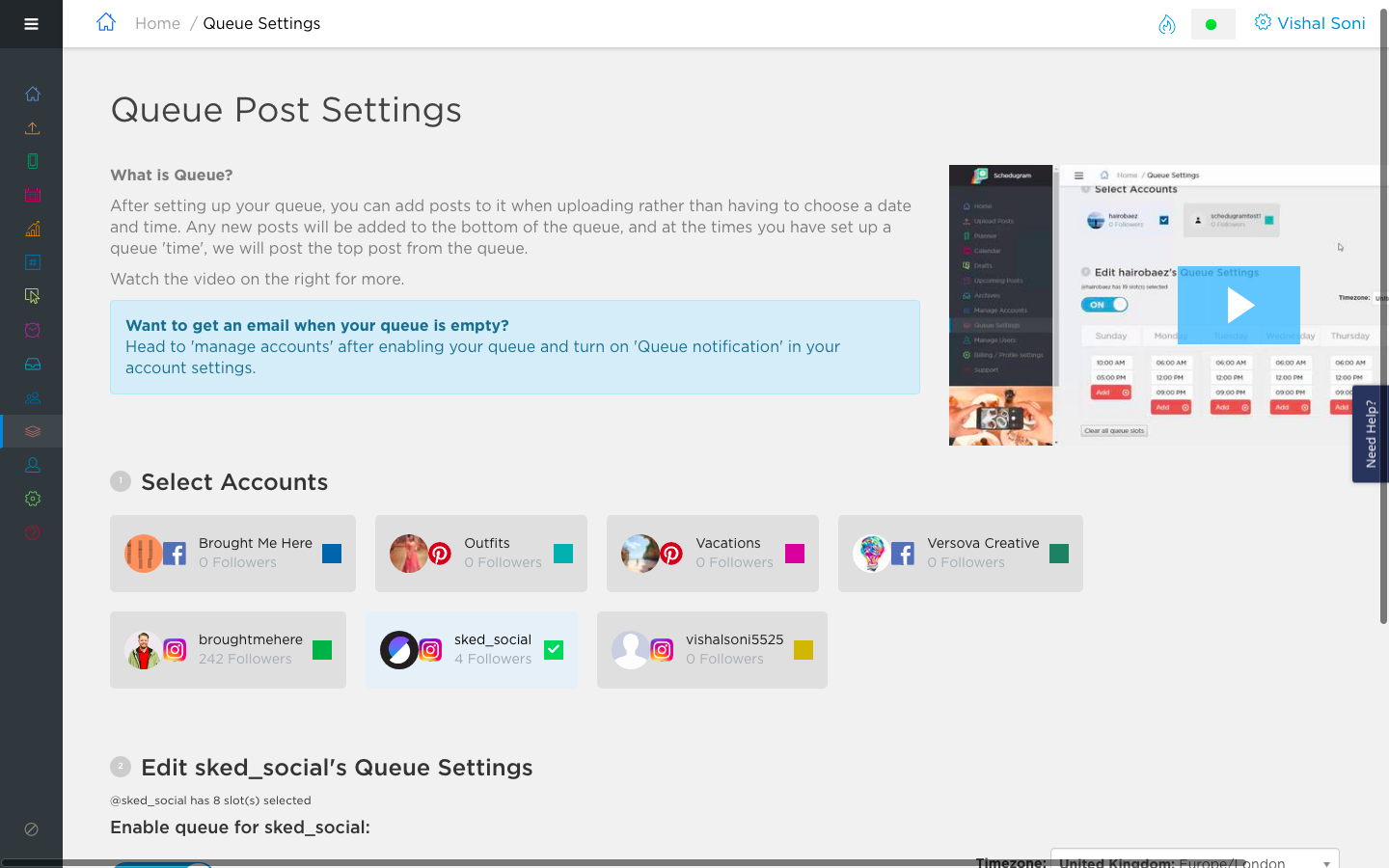 Once there, get started with selecting the account you want to set up the Queue for. Once you've chosen the account, you'll be shown your existing Queue slots (if any) and be able to change them. This is how to do just that:
And that's it, your Queue settings are now successfully saved. You should see a success message in the upper right corner. The next time you upload posts, you can choose to add them to your Queue and they will be automatically posted as per the schedule you chose.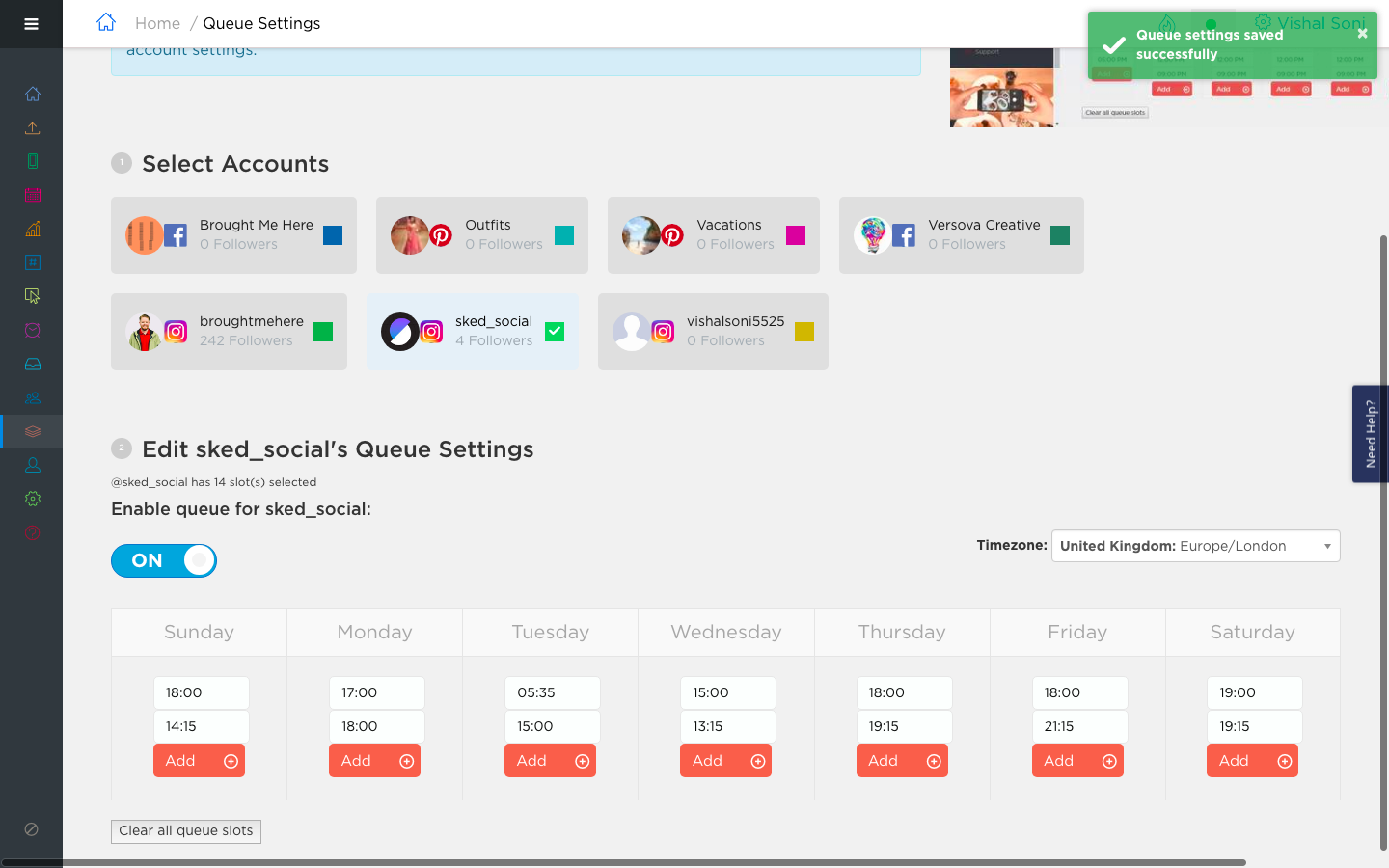 You can see all your past and upcoming posts in your Calendar. Also, if you ever want to just shuffle posts in your Queue, you can do so in Upcoming Posts, just click on Shuffle Queued & Sked will shuffle them for you. You can also drag and drop your posts to change their order, whichever's easier: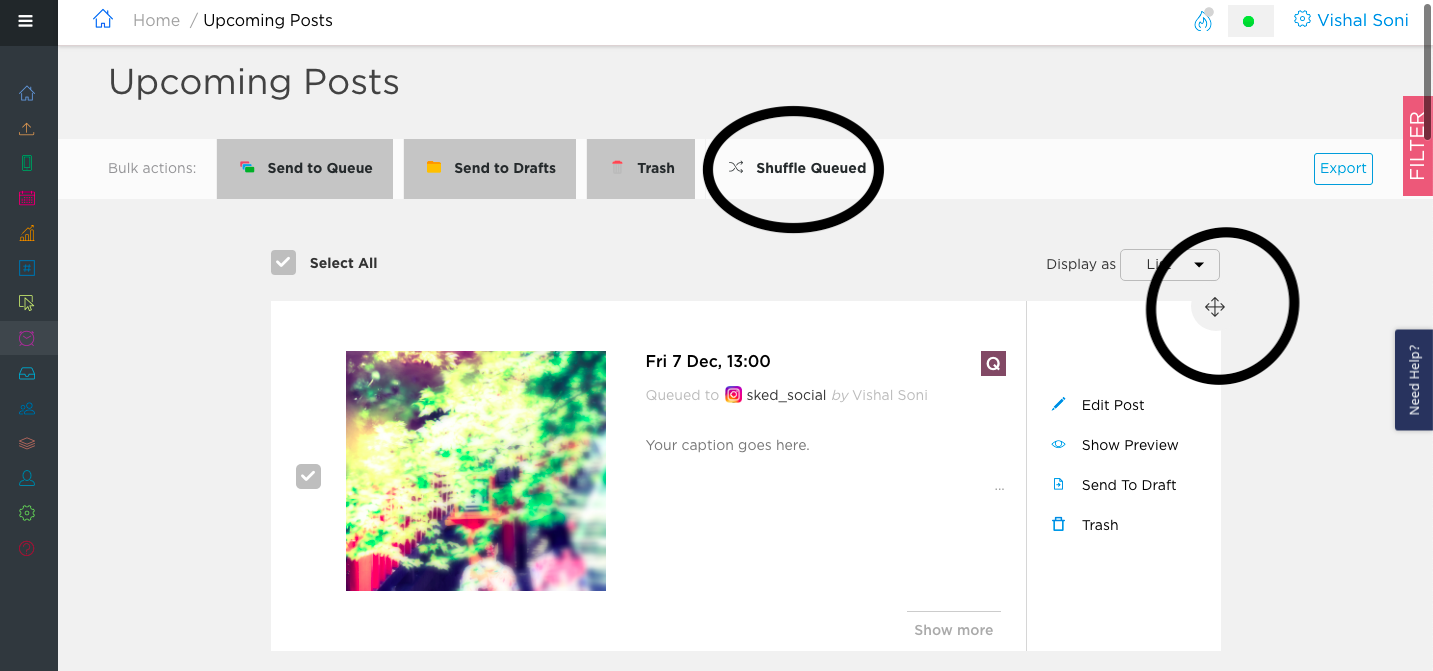 If you ever want to manually rearrange your Instagram posts, you can do so in Instagram Planner.
Instagram Planner
Planner lets you visualize and plan your Instagram grid with past and future posts in order to make sure you maintain a consistent visual feel. You can access your Instagram planner by clicking on Planner on the left-hand side: For starters, you can choose the Instagram account you want to view grid & make changes for: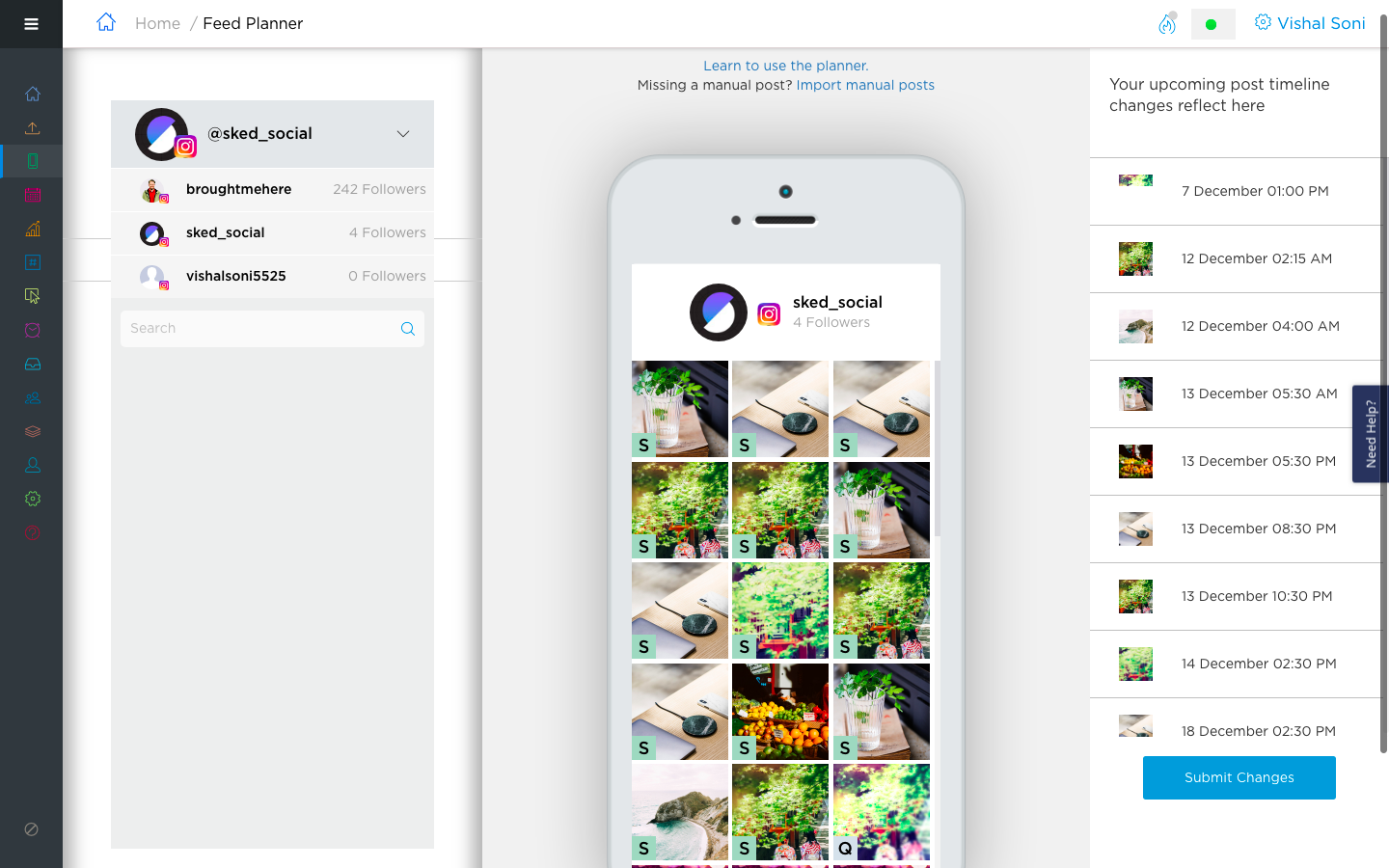 Within Planner, you can also easily Drag & Drop your scheduled post to change their spot in the grid and therefore - their posting schedule, here's a quick recap of how to do that:
Once you've done rearranging your feed, make sure to click on Submit Changes and your posts' schedule will be updated. You should see a success message acknowledging that: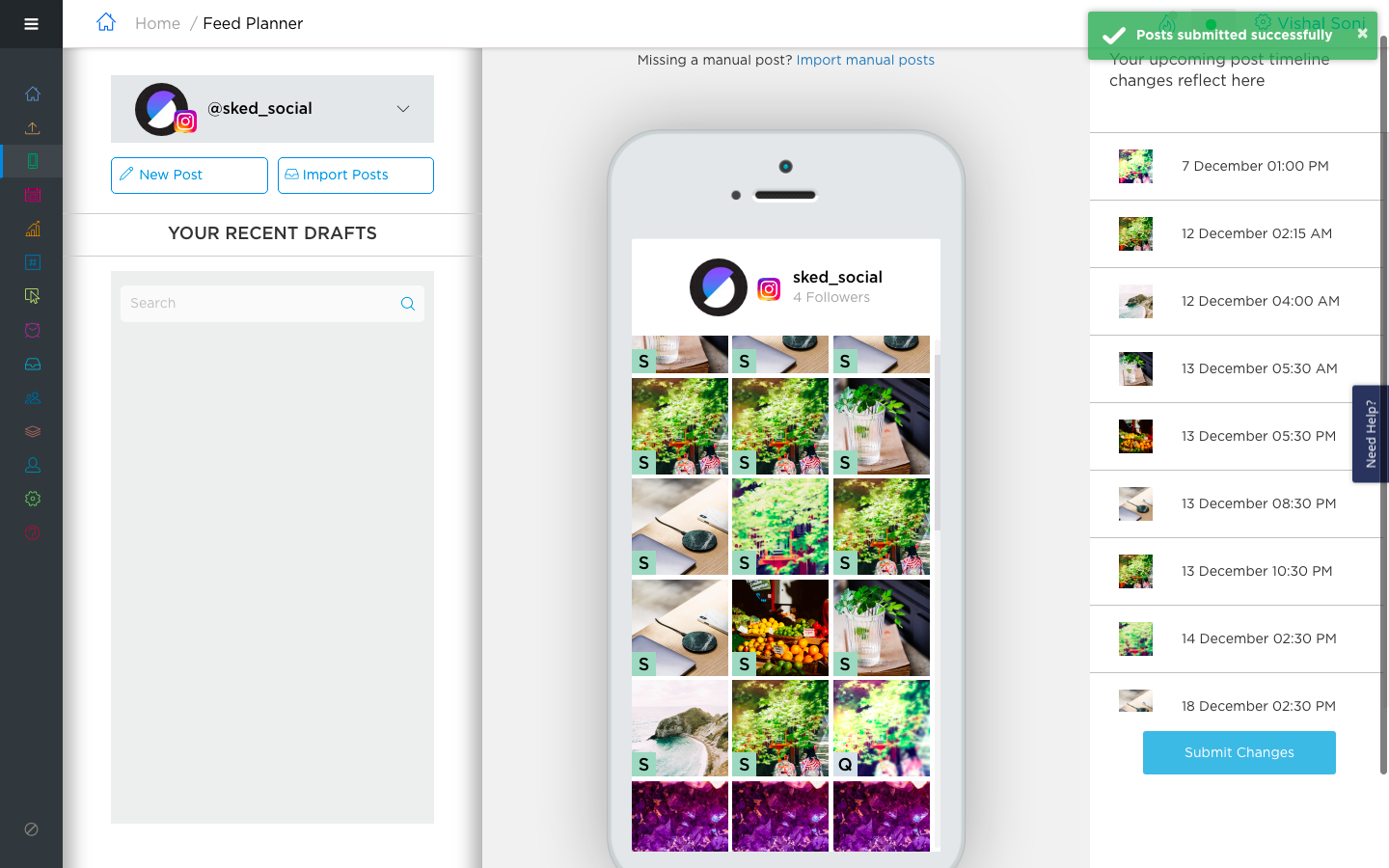 So here they are - quick guides on using some the most important Sked Social features. Let us know if you have any questions!