Since you can now plan & schedule your Instagram, Facebook and Pinterest posts in Sked Social, we've prepared this quick guide on adding different Instagram accounts to Sked. 
If you're looking for info on how to upload content to Sked, check out our step-by-step guide. 
Before you start: check you're ready
When you add the account, make sure you have first:
Added an email address to the Instagram account and verified it (check there is an email in your Instagram profile page, if there is you're fine!). You don't need to use the same email on the Instagram account as you use for Sked.

You will probably need access to this email though (either your own or be able to ask the client).

Added a phone number to the Instagram account and verified it (check there is a phone number in your profile). This is private – nobody can see the number – but Instagram can sometimes stop you being able to upload anything until you have added one. (IMPORTANT)

Logged in lately with on your own device/phone (to check there aren't any outstanding queries or errors).

Make sure the account

has at least 3 images uploaded

– this will mean that any errors or questions Instagram has for you will be resolved by you, rather than us throwing errors.
It is common, particularly for accounts outside Australia, for the first upload to fail and Instagram will ask you to verify the login. This is a security feature of Instagram.
How to add an Instagram account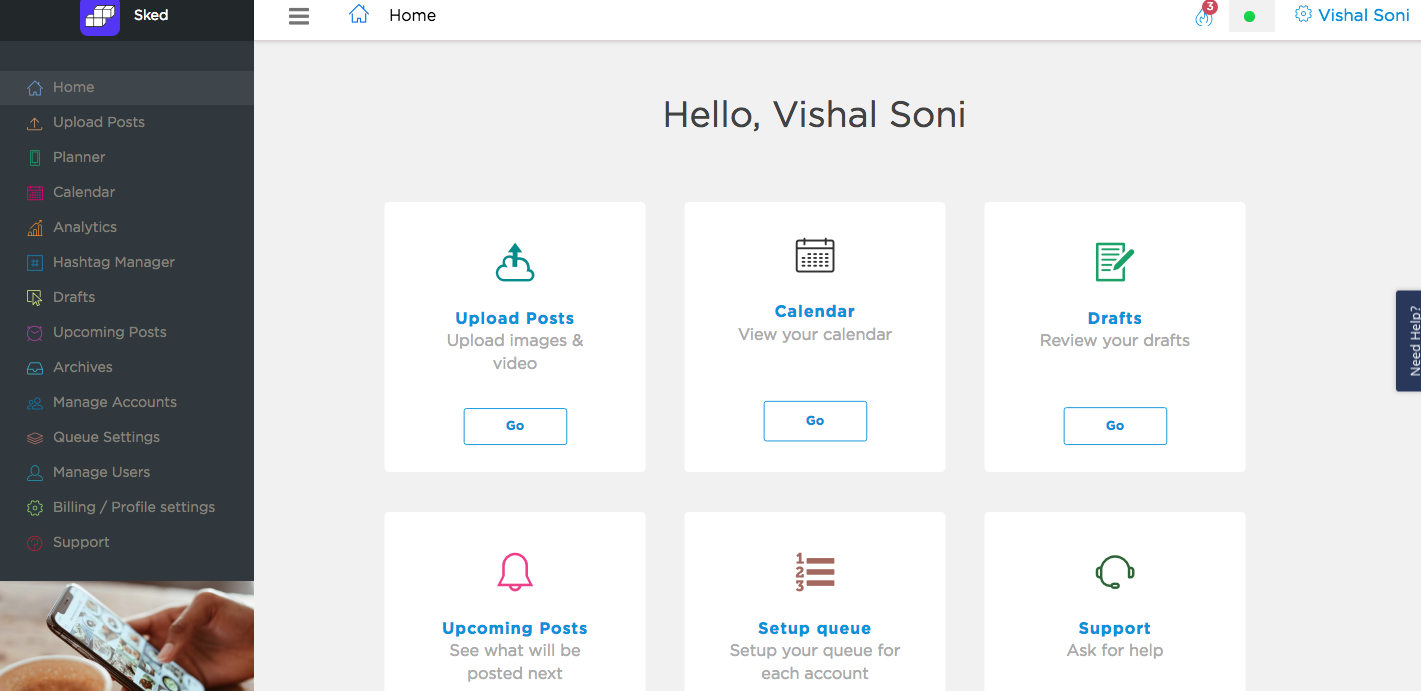 To add an account, you want to start on the Dashboard page of the Sked Social app. On the menu on the left hand side, you will see a Manage Accounts option - click that.

The Manage Accounts page shows you the accounts linked to your Sked Social account. If you are setting up your Sked Social account for the first time, you will not see any accounts added.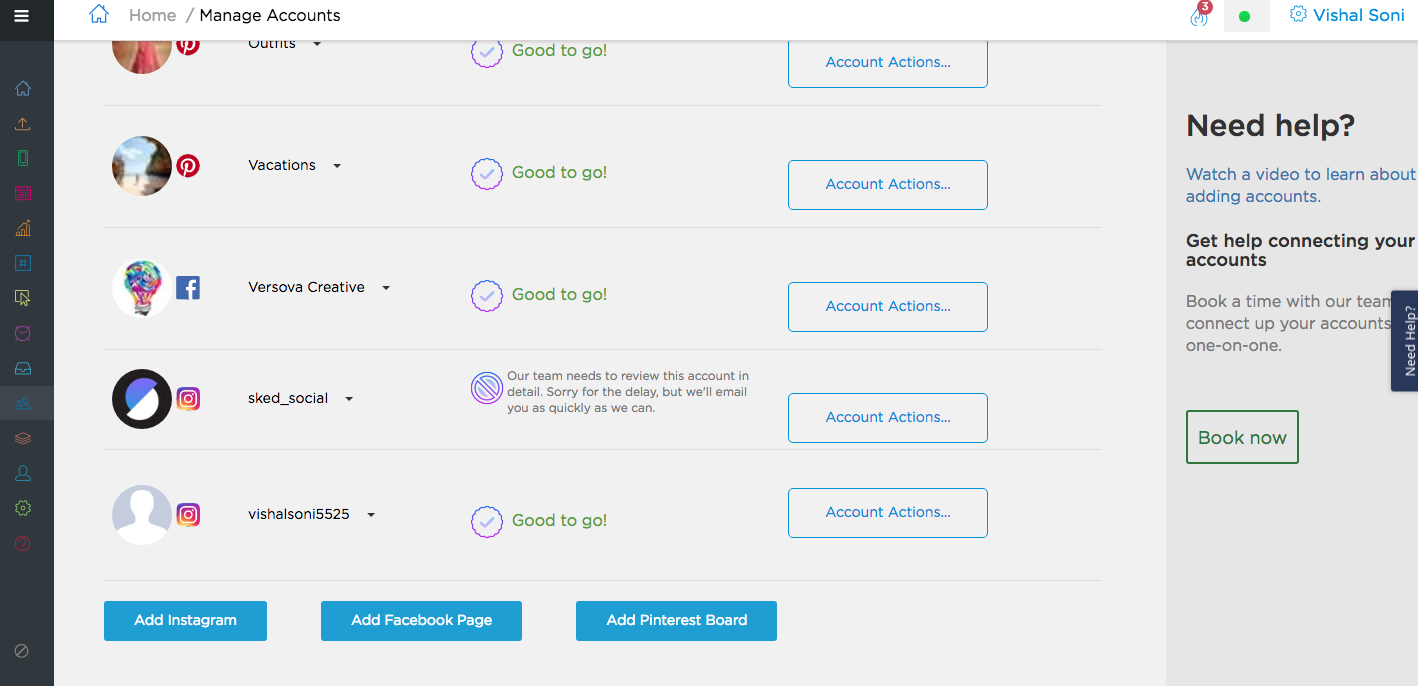 Scroll to the bottom of the Manage Accounts page. There, you will see a few different options for adding accounts to your Sked Social profile. There is an Add Instagram button, an Add Facebook Page button and an Add Pinterest Board button. Since we're looking at adding an Instagram account - click the Add Instagram button.
Enter your Instagram account name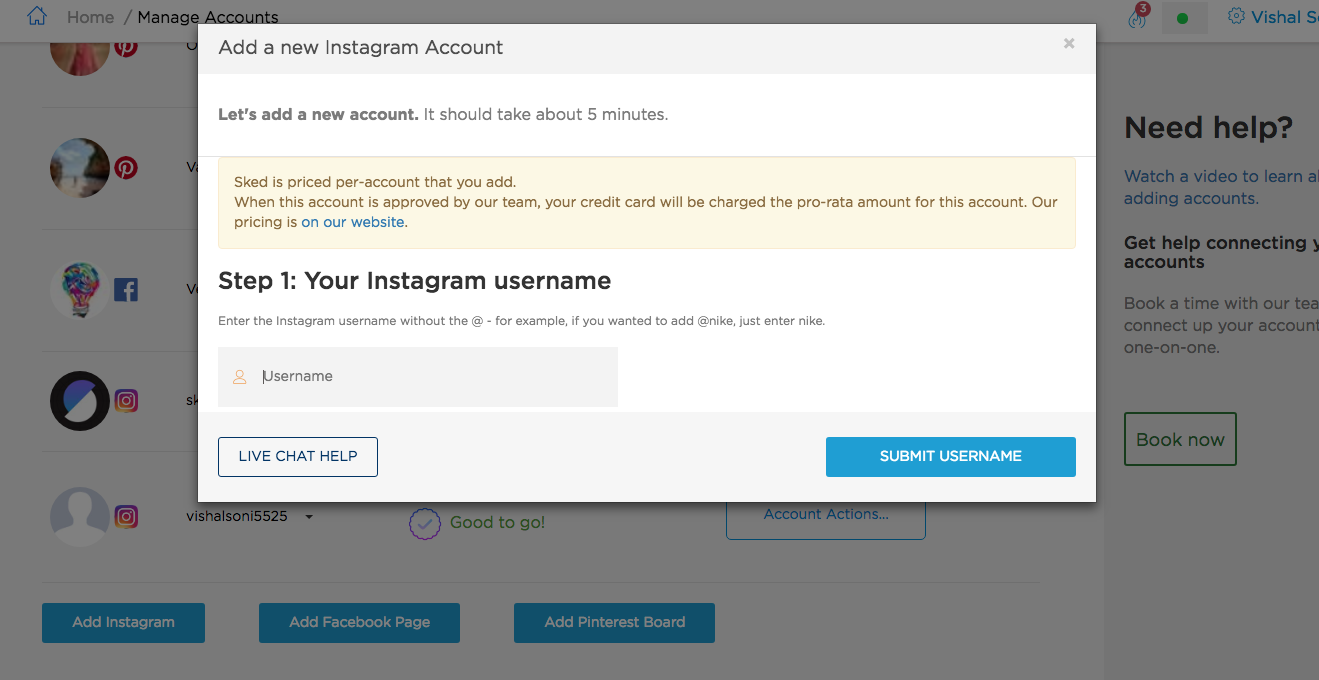 A popup screen will appear titled Add a New Instagram Account. Step one is to enter your Instagram account username. Enter your Instagram handle without the @ - for example, if you wanted to add @nike, enter nike. Once you've typed in your username, click the blue Submit Username button on the bottom right.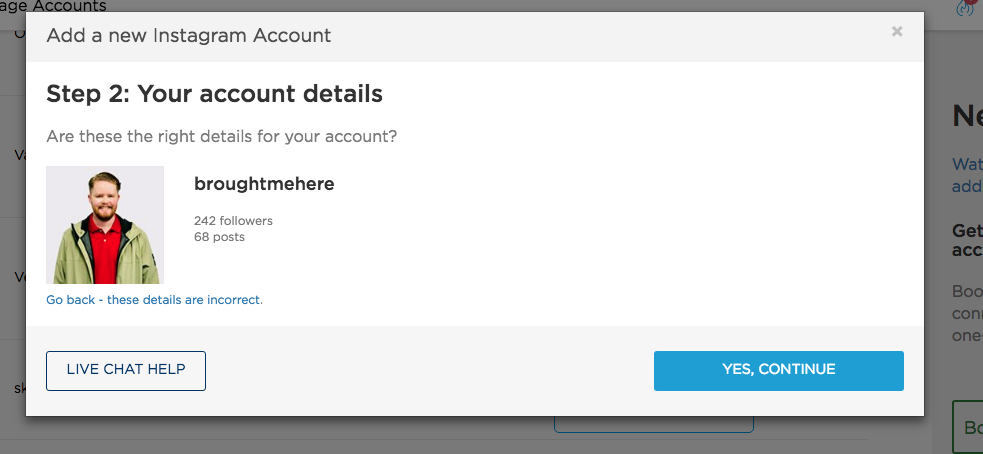 You will now see your account details. This a chance to confirm that you have entered the right username. If you enter your details wrong, click the hyperlink below the profile photo preview. It should say Go back - these details are incorrect. If you are happy with your selected Instagram, click the blue Yes, Continue button at the bottom right.
Enter your Instagram password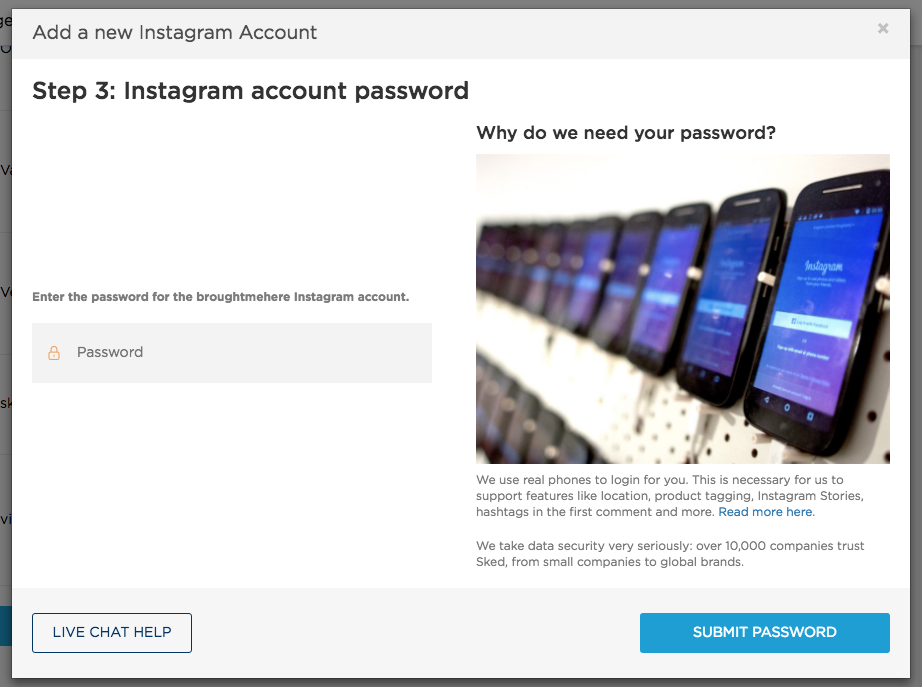 You will now see a popup screen prompting you to enter the password for the Instagram you have selected. Enter your password and click the blue Submit Password at the bottom right of the popup screen.
We need your password because we use real phones to log in to Instagram for you. This is to support features like location and product tagging, autoposting Instagram Stories, hashtags in the first comment and more. Read more here. We take data security seriously and will not jeopardize your Instagram login info. Over 10,000 companies trust Sked, from small companies to global brands.
Sked Social will now verify your account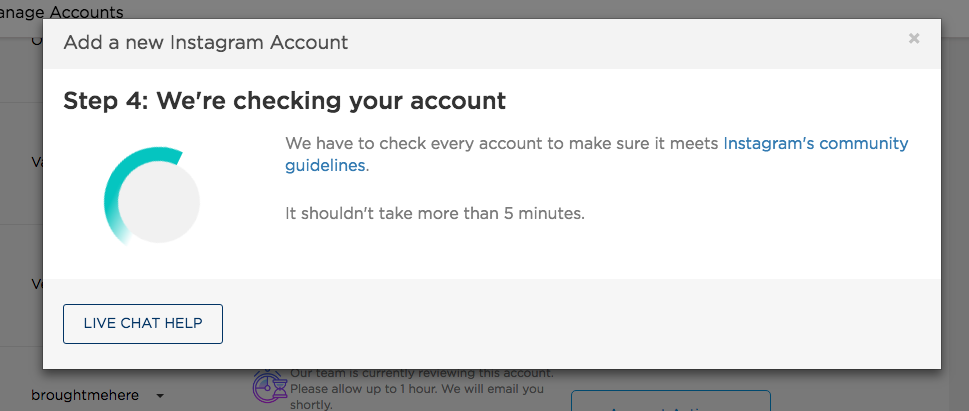 For step four, Sked will check your account. We have to check every account to ensure it meets Instagram's community guidelines. This should not take more than five minutes.
Now when you go onto the Manage Accounts page, you should see your added Instagram page there. You may see a message which says "Our team is currently reviewing this account. Please allow up to 1 hour. We will email you shortly."

Once you receive an email from the Sked team, you should be good to go with your added Instagram account. 
Welcome! It can be a bit fiddly getting your first Instagram account connected. Here are some tips that will help you.