You may also be interested to use our advanced link in bio tool Sked Link to have a hosted page with buttons and an Instagram grid. Find out how to improve your Instagram bio link here. 
It's frustrating that Instagram really only gives you one opportunity to showcase a link to your website or other content. Stress less – one of our popular features is our integration so that you can track clicks to your bio link, and change its destination based on the most recent post you published.
The way it works is that you get a unique URL that you replace your bio link with. The URL is based on your account username. Here's a hypothetical (nonexistent but
incredibly
popular) account showing how it appears:

When someone clicks the link in your bio, the system will redirect them to either:
The link that you have set for the most recently published post, or

If you didn't enter a URL when scheduling the most recently published post, a default page – usually this is your home page.
Additionally, we'll add UTM tags (used to 'tag' your traffic in Google Analytics if you use it –
more info about UTM tags here
) if you don't add any yourself. (For advanced users, the tags we will append if you don't add any are "?utm_source=instagram&utm_campaign=biolink&utm_medium=social").
Some users will never add a unique URL, and just use it as a way to track clicks through to their landing page. Others will add a link to each post, so that users are directed to the campaign, blog post, or products featured in that particular post when they click through (and in the caption tell users to click the link in their bio to find out more).
How To Set Up Link In Bio Tracking
The basic version of bio link tracking is free for all customers. To set it up, start by going to 'manage accounts', then 'account settings' for your account.
Enable the feature by switching on the "account redirect URL" toggle. You'll then see three different URL choices (they are all the same, just depends on what works best for your brand) and a box to enter your default URL:

Save your account settings, then
check that the URL opens up to your default URL when you open it in a new window
. Note that you can't make the default URL your Instagram profile URL – that will potentially cause an infinite redirect loop!
Choose whichever one you prefer (you can also use https://click2.co/<your username> if you prefer it with a slash and then the username – you may need to use this format if your account has dots in the username or you'll get an SSL error) and then edit your Instagram profile to change the link to the click2 URL.
Now, when you are uploading posts you'll see a box to enter the URL you want your bio link to redirect to. As mentioned above, you don't have to enter this – if you leave it blank it'll use whatever default URL you entered.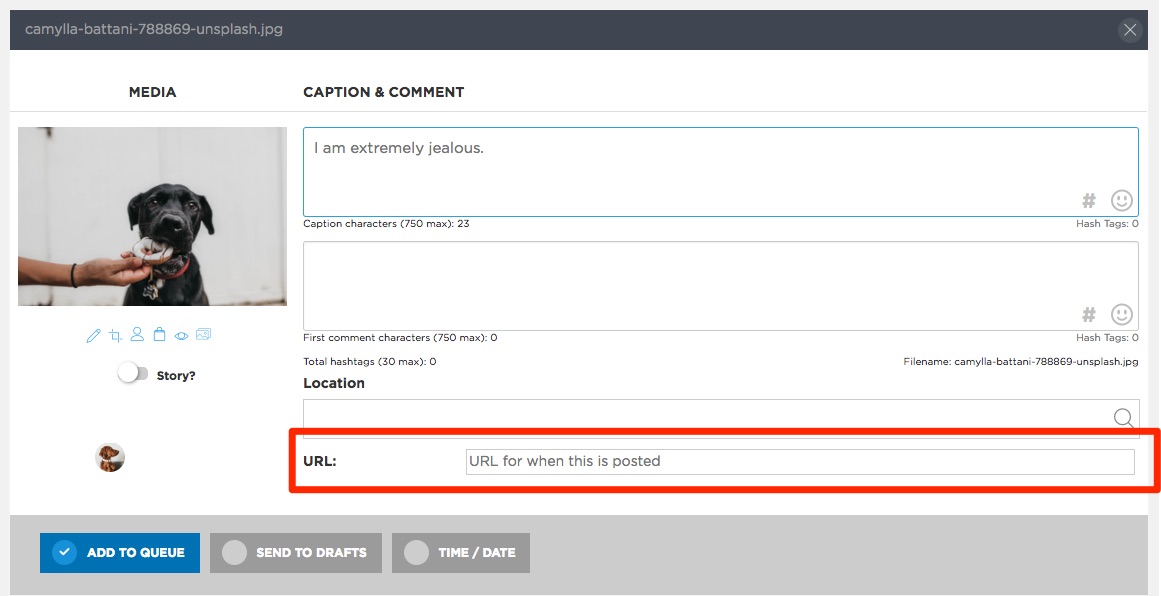 If you enter a custom URL for the post, you'll see a link icon in upcoming posts that will show you the URL that it will redirect to (it opens in a new window):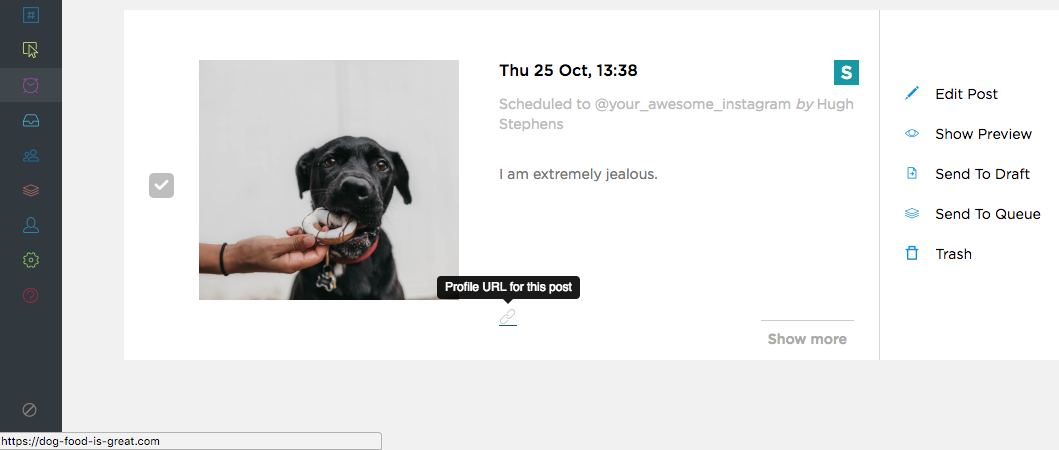 You can edit the URL if you need to using 'edit post' or by editing through the planner or calendar.
After the post is published, you'll be able to see the number of clicks through your bio link while that post is your most recent. The link icon will be grey if the post had the default URL active, or blue (like below) if it had a custom URL (and again, you can mouse over to see what the URL is):